Saint Louis Cardinals A Great Link For News,Sports,Games,and other cool things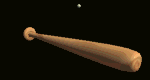 GOOGLE!!!
Free Search Submission!!!
Facts About Bush Stadium
From 1970 to 1976 the entire field was artificial turf, except for part of the infield that is normally dirt on a grass field IN 1977 this was carpeted except for the sliding pits. This is only one of two instances where there was a full dirt infield with an otherwise fully artificial field, the other being Candlestick Park in 1971.
Ninety-six open arches surround the field just below the roof.
From 1966 to 1982, right field scoreboard lights showed a Cardinal in flight whenever a Cardinal hit a homerun; the same show was put on every time Lou Brock set a new basestealing record.
Home plate transplanted from old Busch Stadium at opener on May 12,1966.
Next to the Gateway Arch and the Mississippi River; fans can see the Arch from the top deck in right field.
Statue of "Stan The Man" Musial outside the stadium was unveiled in 1968.
In 1987 every seat was replaced, and all of them were painted red.
At league direction, the site designated for any Chicago Cubs playoff or World Series home games from 1986 until 1988, when Wrigley Field finnally installed lights.
"Take Me Out To The Ball Game" is played on the organ during the seventh-inning stretch and the Anheuser-Busch "King Of Beers" theme song is now played at the end of the seventh inning.
Small sections of the bleachers in the outfield. Part of the left field bleachers were taken out in 1996 to accomodate a new bullpen for the Cardinals as well as a family pavillion and picnic area. The visitor's bullpen was hidden behind the left field wall.
In 1977, a 17' high by 270' wide manually operated scoreboard was built in center field and the visitor's bullpen was moved to right field.


Feedback!!!